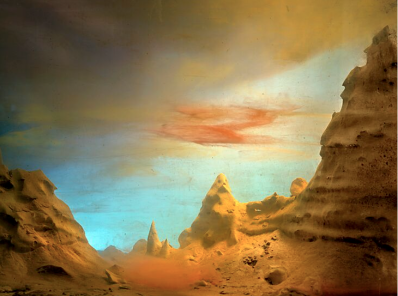 Landscape Dreams I Remember
April 7th, 2018 – May 19th, 2018
Keever's large scale landscapes evoke the aesthetic of the Hudson River School and the German Romantic painters. The artist builds these miniature landscape tableaus in a 200-gallon tank which he then fills with water. After injecting pigment and dye into the water, he makes his photographs with an 8 x 10 large format camera. His prints are large, utterly luscious and environmental. Keever's work explores the tension between painting and photography, a dialogue that has existed since the invention of the medium of photography 177 years ago.
Keever says, "There's a dialectic in this between solid form and randomness, and you can get this 'how the hell did that happen' effect. These forms are so strange, which is what I'm always after. They're mesmerizing to watch." Not surprisingly, Keever has scientific training; before choosing an artist's path, he got his degree in thermal engineering.
Kim Keever lives and works in New York City. His work is in numerous collections, including: the Metropolitan Museum of Art, New York; Museum of Modern Art, New York; Brooklyn Museum of Art, Brooklyn; Hirshhorn Museum, Washington, DC; Virginia Museum of Fine Arts, Richmond, Virgina; Chrysler Museum, Norfolk, Virginia; Nassau County Museum of Fine Art, Roslyn, New York; Patterson Museum, Patterson, New Jersey; George Washington University Gallery, Washington DC; Nerman Museum of Contemporary Art, Kansas City, Missouri, among others.